WhatsApp allows users to delete individual messages (including videos and photos) or an entire chat if they wish. However, you might delete a video or photo and later realize you needed it or in some case, you just delete them by accident. This can be frustrating and will make you plagued by wondering how to get back these deleted files again. 
Fortunately, you will not be troubled by this question any more. In today's guide, I will take you through the methods you can use to recover deleted WhatsApp photos and videos. Let's get started!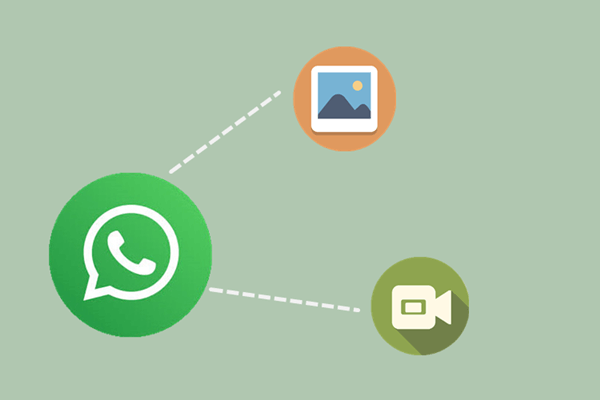 Part 1.

Can We Retrieve Deleted Whatsapp Images and Videos on iPhone?

Yes. When you delete an image or video in your WhatsApp, it will only be deleted within the app, but not the entire device. Therefore, it's possible to recover deleted photos and videos from WhatsApp.
Part 2.

Basic Check Before Starting Recovery

Before getting into the more complex recovery procedures, it is best to check your photos or gallery app to confirm if the deleted videos and photos are still there. WhatsApp will automatically download the media files received in chat by default. And the photos and videos are usually stored in the WhatsApp album of your Photos app. So, even though the photos or videos are deleted from your WhatsApp chat, they might still be available on your device. Just go to your Photos app to have a look.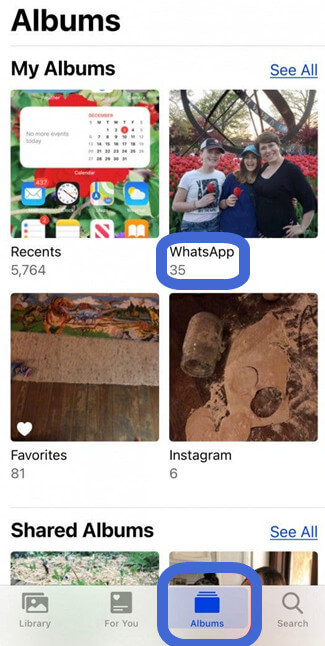 Part 3.

Recover Deleted Whatsapp Photos and Videos With a Backup on iPhone

After deleting a photo or video from your WhatsApp conversation, it will no longer appear in the chats even if you look for it in the media files of the chat. Depending on your phone's settings, these deleted photos may also not appear in your phone's gallery or photos app. If you are in this situation, worry not because we have a couple of solutions for you.

First, let's have a look at how to recover deleted WhatsApp photos and videos on iPhone if you have a backup.
1. Recover From WhatsApp Chat Backup
You could consider the chat backup at the beginning of your WhatsApp photos and videos recovery process. You could see the chat backup option in the WhatsApp. Thus, you are enabled to utilize this function to get back your photos and videos.
Here are the steps to recover WhatsApp photos and videos from WhatsApp chat backup:
1. Check the backup you have made in the WhatsApp Settings > Chat Backup.

2. Uninstall WhatsApp and reinstall it again. While reinstalling WhatsApp, you will be prompted to restore chats from your iCloud backup. Choose this option to trigger the process. After restoring your chats, the WhatsApp will likely include all the photos and videos you deleted.
2. Recover From iCloud Backup
Another option is restoring your entire iPhone from iCloud backup. If you had initially backed up your device on iCloud, you can recover all the data of your iPhone from this backup which may include your WhatsApp photos and videos. Before starting, there are some things that you must be aware of. With this method, all your existing data will be erased and replaced with the iCloud backup. So, you might lose some of the files that were not backed up earlier. It is also hard to confirm whether the iCloud backup includes the exact photos and videos you just deleted. But anyhow, to get your deleted data back, you can have a try.
The steps for restoring from iCloud are as follows;
Once you are certain that your iPhone is backed up on iCloud, factory reset it to erase all the settings and data. To reset your iPhone, go to Settings > General > Reset > Erase All Contents and Settings.

After resetting, choose the "Restore from iCloud Backup" option on the App & Data Screen.

Choose the backup you would like to restore. Your iPhone will then recover the WhatsApp photos and video from iCloud.

3. Recover From iTunes Backup

Another alternative to recover WhatsApp photos and videos is using iTunes if you initially backed up your device on iTunes. This method will overwrite all your files, so if some of the files you have now were not backed up initially, they will likely be lost.

Note

If you are using macOS Catalina or newer, use the Finder app since the iTunes functionality of backing up and restoring was integrated into this app.

Below is the procedure for restoring your iPhone via iTunes;

Launch iTunes on your PC or Mac. Connect your iPhone to the computer.
Click on "Restore Backup" and choose the backup contains the deleted WhatsApp photos and videos.

Part 4.

Recover Deleted Whatsapp Photos and Videos Without a Backup on iPhone

If you failed with all the above mentioned methods or you know you haven't backed up WhatsApp data, here is the last option for you to recover deleted WhatsApp photos and videos.

4. Recover With iFindit

iFindit is a professional data recovery tool designed for iOS devices. With iFindit, you could recover your WhatsApp photos and videos without any backup. Therefore, if you didn't back up your WhatsApp data, turning to iFindit may be a good choice. And the operation is very simple, you don't need to be tech savvy to use this tool.

Here are some more reasons why using iFindit is more reliable than the other alternatives we shared earlier:

It doesn't need any backup.
It allows you to scan and preview the files before recovering them for free.
It will enable you to select only the files you intend to recover. You don't have to reset or restore your entire device.
It won't cause any extra data loss.

Steps to recover your deleted WhatsApp photos and videos using iFindit

1

Open the iFindit app on your Windows PC or Mac. After launching the app, select the "Recover from iOS Device" mode. Connect your iPhone to the PC using a lighting cable.

2

When your device is successfully detected, click on "Next" to continue.

3

The app will show you all the file types, choose the one you want to recover. In this case, you should select WhatsApp and click on "Scan".

4

After the scan is complete, click on the "Recover" button on the bottom right corner. All your chats, including the deleted photos and videos, should be retrieved when the process is complete.

Conclusion

You can use any of the four methods we have just shared according to your preference. However, the most effective method to recover deleted WhatsApp photos and videos is using the iFindit tool. This tool has several benefits over the other three alternatives. First, you don't need any backup on your computer or iCloud. You also don't have to reset your devices. This eliminates the risk of losing some of your data. So just download and have a try right now.